The baby care program – a rights based approach
A child has both human and constitution right to care and protection – survival, protection, development and participation.
Grapesyard Organization adds another program into its list of programs – The Baby care center to contribute to efforts in child rights and protection.
Located near Dandora dumping site, the program is geared towards the survival many children who are exposed to toxic chemicals and decomposing garbage in the dumpsite. The exposed is because their mothers strap them on their back while collecting metal and plastics to sell to recyclers from the heap of toxic chemicals and decomposing Nairobi city refuse. This is a problem that the children have to contend with daily because their mothers cannot afford to hire house- help or baby seater to keep the children out of the dumpsite.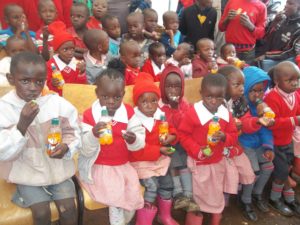 Grapesyard in collaboration with partners is set to make this a thing of the past for the mothers who will brace the program and will definitely go a long way in safeguarding children rights.
As we implement the program we are alive to un-desired outcomes of the program such as mothers abandoning their babies at the centre, huge number of children approaching the program for support, etc. And these are the reasons why we reach out to likeminded players to join hands with us in addressing both positive and negative aspects of the project.
Reach us today for more information.